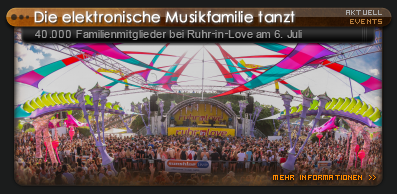 40 Floors, über 400 DJs: Auch im 17. Jahr bleibt das Konzept von Ruhr-in-Love einmalig in der Festivallandschaft. Am 6. Juli wird der OlgaPark wieder zum Treffpunkt der elektronischen Musikfamilie. Bei Ruhr-in-Love geht es nicht um Superlative wie Bühnengrößen oder die neusten Effekte der Special-Effect-Industrie.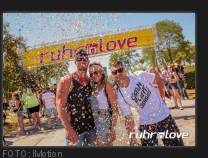 Stattdessen werden die 40 Floors mit viel Leidenschaft, Kreativität und verrückten Ideen gestaltet. Es geht um die Musik und um das gemeinsame Feiern. Vielmehr geht es darum mit seinen Freunden eine gute Zeit zu haben. Dabei spielt es keine Rolle, ob man lieber Techno, Trance, Electro, House, Hardcore, EDM, Goa oder Drum'n'Bass hört – bei Ruhr-in-Love gibt es die komplette Bandbreite elektronischer Musik. Zahlreiche Macher aus der Szene, wie Veranstalter, Radiosender und Plattenlabels, gestalten die 40 Floors. Ritterburg, Doppeldeckerbus oder ein zur Mini-Bühne umgebauter Imbisswagen – alles ist vertreten. Mit dabei sind u.a. der kölner Club "Affenkäfig", die Partyreihen "Hardcore Gladiators" und "abstract", die Community "Queer United" und die Radiosender "sunshine live" und "bigFM".
Auch TechnoBase.FM und HardBase.FM sind zum dritten Mal mit einer eigenen Bühne vertreten.
Einige Floors sind bereits seit Beginn im Jahr 2003 Teil des elektronischen Familienfestes. Neben zahlreichen Floors aus dem Ruhrgebiet gibt es auch Beteiligung von Partnern aus dem benachbarten Ausland – aus Belgien, Luxemburg und den Niederlanden. Das LineUp besteht aus über 400 DJs und LiveActs. Auf der "Center-Stage" legen u.a. DJGrößen wie Will Sparks aus Melbourne, Sam Feldt aus Amsterdam und Pappenheimer aus Würzburg auf. Cuebrick aus Stuttgart, der wöchentlich beim Radiosender bigFM Gastgeber der elektronischen Musikshow "NitroX" ist, spielt hier bereits zum vierten Mal in Folge.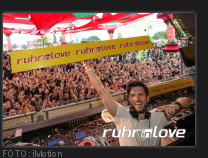 Für MOGUAI, der selbst aus dem Ruhrgebiet kommt, ist Ruhr-in-Love ein Heimspiel. Er startete seine DJ-Karriere bereits vor über 20 Jahren und gehört heute zu den bekanntesten deutschen Acts. Härtere Klänge gibt es u.a. von Rotterdam Terror Corps, Tensor & ReDirection und Minupren. Neben international bekannten Künstlern stehen viele Newcomer und lokale DJs wie Max Bering aus Bochum und Klanglos aus Mannheim an den Mischpulten. Den Besuchern scheint es bei Ruhr-in-Love zu gefallen. Im letzten Jahr kamen 37.000 Besucher bei bestem Sommerwetter in den OlgaPark. "Kurz und knapp: der geilste Tag des Jahres", berichtet ein Besucher bei Facebook. "Ich bin begeistert von der Herzlichkeit der Leute und dem Umgang miteinander. Lange nicht mehr so gut gefeiert", schwärmt eine andere Besucherin. Wer um 22 Uhr noch nicht nach Hause möchte, hat die Möglichkeit bei rund 20 AfterParties weiter zu feiern. Diese werden von den Ruhr-in-LoveFloor-Partnern in Clubs und Locations in ganz NRW und den angrenzenden Bundesländern veranstaltet. Für eine entspannte und vor allem sichere Heimreise sorgt das Kombiticket: Die Ruhr-in-Love Eintrittskarte dient gleichzeitig als Fahrkarte im VRR-Raum.
Line-up:
CENTER-STAGE:
Will Sparks, Sam Feldt, MOGUAI, Pappenheimer, Cuebrick, Steff da Campo, Max Bering
Floors:
Kerstin Eden, Torsten Kanzler, Björn Torwellen, Niereich, Sven Wittekind, the
Czap, Man at Arms, Sorgenkint, Wanja & Crotekk -live-, Sutura, Alexia K, Tiko,
Max & Morris, Da Hunter, Cruel Activity -live-, Alfred Heinrichs, Klanglos, Timo
Mandl, Tommy Libera, Fappe & Bru, Julian Brand, Erik Erixon, Tezz Mucke, Chris
Buggert, Hatred, TerrorClown, Tensor & Re-Direction, Ron & Baby Raw,
Emphaser, Brainrape, Darkcontroller & Bloody Vaya, Dedicator, Effection, Nikkel,
Justin Pollnik, NOISETIME, Tiscore, Jermaine Vita, Vescu, Luke Madness, MACIN,
2FREAKZ, Craycee, ELTIV, K&K, NelsonX, MAXL, Mr. Beck, BLARC, Dalora,
Distiller, nknwn.freq, NoizTrain, DMNK, Acoustic Armageddon, Fallen, The Italian
Stallion, Banging Tunes DJ-Team, Ti Moe b2b K-Man, Kai Thürmer, Marki Mark,
Nana K., Serkan Hut, Dombrowski, BeDen, Nick Bergrath, VIKA, Karol, Féy, Jus
Luke, EJE, Tom Franke, Vol2Cat, Basskiller, Max Lean, Timo$, Dschafar, Valiant
Kings, DJ Loca & DJ Quake, Adaptiv, Ben Knight, Brandon, Chico Chiquita, Dr.
Pelikan, LouderBirdz, MBP, Mircowave, Oliver Magenta, Timbo, Tiscore, TobyLee,
Steffen G., Eddy0ne, N-Rhytm, Dominik Stuppy, STEINBERG, THEP, Patsch, G.
Brätta, Van Keeken, Henk van Mill, Johann S., Ebol Donde, Wurst & Waren,
Minupren, PETDuo & O.B.I., Zahni -live-, Tobi Wan Kenobi, BMG oLIVEr, Die
Gebrüder Brett -live-, Lydia M., Andi Teller, Brainstorm, DSICK -live-, D-Ceptor,
Evolution, Quitara, Tyfon, Lab-E -live-, X-Treme, Kahlkopf HC, Murder Tribe,
Nstinct, D-Fighter, Olle, Gee MC, DJ Chris Teddy, Markus Kramer, Frederik Tepe,
Mr. DJAF, Patrick Reitz, Ron Friday, Libra, Schönagel Bros., Kollektiv Nonverbal,
Kraussmann, André Müller, Maurice Schönagel, Max Wide, Tobi Rech, VITIZE,
R3SPAWN, FRDY, Lost Identity, Tiefblau, Noel Holler, Eric & Sam, SCRAFTY,
Philip Hees, Max Reimann, Colin Cooper, AnGy KoRe, Sebastian Groth, Felix
Bernhardt, BrettHit, Lukas Kauert, Carara, Mikka Vision, Penoktikum, Edi S, C.
Benner, WazToo, Owsley & Junior, Netty Hugo, AL-x, SPPB, Mauricio Morkun,
Krischmann & Klingenberg, LEETO, Andrew Barclay, And reas Hankeln, Rafael
Silesia, Marcel SZi, Inkücknito, Shit & Paper, 2Elements, HouseKaspeR, DIA
Plattenpussys, Mimalogic, MARC WALL.E, Blondee & Roberto Mozza, Paul
Schneyder b2b DJ Preacher, Halbsteiv, Oleg & Boleg, DJ Fabs, Justin Prince, Twinz,
Danielle Diaz, Moestwanted, KENLO & SCAFFA, The Midnight Twins, Alltag, Neil
Richter, Said Omar, Ontonic, Jack Costello, Jasper Mescalyn, Stefan303, Tayfun & Der kleine Korbi, Kadenzmann, Tiziano Dobler, Reflex, Rollin' Beats, Mr. Pzychmike,
Manuel Orf aka Viper XXL, Unmensch, Oliver Immer, D.N.S, Mirco.V., F-Rontal b2b DeGuzman, Urgewalt, Marvin Erbe, Thorben:E, Bunkertech, Lino Escoba, ALLEKS, Sabine Sakral, Ronny Alain Delay Lorenz, Cosima, Leinad Lessil, Klangmeister aka Ben Strauch, Nadim, Miss Angie, DeGuzman, Stewen, HatReck, Patrick K. Uma, Stoffwechsel, Ottes, Der Doe, Phil DK, Hardfunction, Boneyard, CodeCrime, Mr. Bassmeister, Charter, Equalizerz, MC Tools, Tschern-O-Phil, the Trickster, AKD 72, Deathsquad, Cozmo, Hell's DJ Team, Iridium, DJ Quicksilver, IQ Talo, Miss LaLuna, Marc Reason, Youree, Danth, Andy Oaks, Timo Weides, Martin Daub, MKE, Jey Aux Platines, The M.C., DaPorK, Chefetage, Kellerbeats, Alex K, Nils Bentlage, Nick Stroth, Greyscale, 909 Schneider -live-, Lackla, Wackelkontakt, Jst, Rebko, M-Sloth, Mix_R, Micronox, Gourski & Zera, M73, CW-Music aka DJD, DJ Pearl, O.Baker, Vincent Sonore, Coco YumYum, E-Tec, High Gain, Uli Pöppelbaum, DJ TabS, Temper, Rautenberg & Becker, Gut Druck, Amok Dee, Reker, Natalie Deborah, Dan G., M.A.S.H., Olliver Wiessener, Rheincraft b2b RolandB., DEN CORVIN, Blaikz, DanX, The Raveboi, Jimmy Befrik, Mike Hoffmann, DHSB, Felix Harrer, XTront, Stupid Goldfish, Fabian Farell, Rob van O, Goodwyn, Multiplex, David Coup, Skinniboi, Todd Galano, T.M.O., RABIXX, Andreas Mann, Rotterdam Terror Corps, Estasia, Dione, Lunakorpz, Distortion, SRB, The Wishmaster, Ms. Leadin', Dissoactive, Suicide Rage, MC Da Weasel, Marc Vision, Der Kaiser, RML, Da Carlo, Sven Räuber, Andy Mitch, Dominik Weichselbaum, ALYF, Don Phunk & Wu Dee, 20 Fingers aka Cutmaster Jay & Khetama, Alexander Machts, Mrcl, Chris Hans, Nowontek aka SUB92, Murray, Maurin, Simo Flow, DUNE, Roger Shah, DJ Falk, Nicky Jones, Wishes & Dreams, ANTHY, Malua, Basslovers United, Ti-Mo, G4bby, Dan Winter & Ryan T., Mindblast, Timster, & Ninth, Sintica, Alari & E-One, Patronic & Nikit, Destiny & Shaak, Taucher, Future Breeze, Sakin Bozkurt, DJ Bjoern X, Dj Daydreamer aka Stefan Malitzig, Faden, Risto, Andreas Seeber, Automuque, Patara -live-, Chorea Lux -live-, Piratix, DJessy, Psykomane, Tomekk, Djane Felize, Serenade, Rene Raggas, Haircutter, Farbstoffträger, Trippbegleiter